The Fate of Wartime Deposits / Museum of Decorative Arts, Prague, Volume 1; the Second Edition
Published:
14. 1. 2021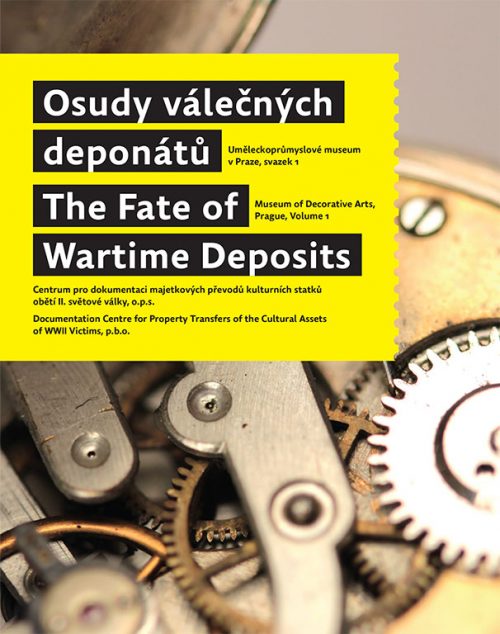 The Fate of Wartime Deposits, Volume 1 - the book cover
The Centre publishes the second edition of The Fate of Watime Deposits / Museum of Decorative Arts, Prague, Volume 1.
The publication describes the fate of several deposits, containing items from the property of World War II victims, which got to the Museum in various ways during the period of the Protectorate of Bohemia and Moravia. The Volume 1 focuses on the deposits of collections of Helena Kopetzky and Viktor Kahler. (Volume 2, mapping the movements of other Museum of Decorative Arts wartime deposits, is available HERE.)
Deposit 1231, deposited to the Museum in 1943 by the Property Authority (Vermögensamt beim deutschen Staatsminister), comprised of a Viktor Kahler's significant collection of old Meissen Porcelaine. The collection was confiscated by Gestapo after Kahler's emmigration in 1939. Deposit 1356, containing the Helena Kopetzky's collection of objects of questionable museum value, was probably deposited to the Museum by the owner herself in 1941. The book also mentions deposits 1244 and 1252 consisting of renaissance cabinet and a parchment fan. It summarizes the available archival and provenance information on the individual objects that make up these four deposits.
The first edition, published in 2014, opened a series of catalogs of World War II victims' property identified by the Documentation Center in individual memory institutions. The current second edition respects the graphic language and design of this edition, designed by Luboš Drtina for the Documentation Center since 2015.

The book is published in bilingual Czech – English version.
ISBN 978-80-907507-3-9
If interested in publications issued by Documentation Centre for Property Transfers of Cultural Assets of WW II Victims, p.b.o. please contact us at centrum@cdmp.cz.